Camp Crawford, home of CCC Company 1512, was located on a bend of the the Little Kanawha River, between the river and State Rt 14 in Wirt County. The Company, also known as SCS-2, was situated near Elizabeth and began soil conservation operations in May of 1935. The men of Camp Crawford built roads, bridges, stabilized berms and did soil erosion water runoff control for farmers in the area before disbanding in July,1939 for a move to Cabell County.


Note: Clicking on an image below opens a new window. Close window to return here.

Camp buildings and general site of Camp Crawford. The bridge to town and buildings of Elizabeth are in the background. No doubt in time of need, the CCC enrollees here helped out the townspeople in bad weather, etc. Please note the lettering and numerals,"Co 1512 CCC" on the rooftop of the foreground barracks roof. Quite possibly, the markings were put there in the 1930's as a directional reference point for airplane pilots. The reference point would also be a marker on their navigational cockpit maps.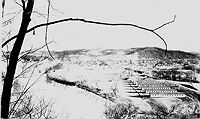 Snakes were common in many CCC camps, and Camp Crawford was no exception. The picture illustrates several degrees of completeness of dress: from shirtless to formal with tucked-in ties. Note the neatness of hair grooming, a mark of quality and military doctrine in all CCC camps.
Note the bugler. Maybe the picture was taken just after Retreat on a summer's evening, before dinner. Please note also all eyes on the snake's body except one pair. Unfortunately, the men in the photo are unidentified. Maybe you can help furnish a name or two.