The West Virginia State CCC Museum Association is proud to announce the induction of John Harvey Turner into the 2013 WVCCCMA Hall of Fame. It's an honor that he is being inducted in the year of the 80th Anniversary of the CCC. His induction ceremony took place at the West Virginia State CCC Museum Association Spring Jubilee April 20, 2013 in the Quiet Dell United Methodist Church meeting room.

Our Honoree was born June 13, 1888 in Ashton Hannan District, Mason County, West Virginia. He grew up and attended school in Mason County, West Virginia.

John was the fourth of five children born to John Charles and Elizabeth Sardina Turner. He was 9 years old when his mother passed away and 29 years old when his father passed away. His father served in The Civil War.

John was working as a coal miner in Boone County when he was inducted into the U.S. Army as an artilleryman and sent to Camp Dix, New Jersey for basic training. He served with distinction with Company F 305 Ammunition TW during WWI. He fought in the following battles in France: Atois Sector, St Mihiel Offensive and Meuse Argone Offensive. He fought in one of these battles twice. John was sprayed with mustard gas while serving in France and received a small medical pension. His daughter Dorothy Gunno received his WWI Medals in October 2012. On her father's discharge from the Army his character was described as excellent!

After John returned home from WWI he worked as a coal miner, owned a barber shop, was a carpenter and he was also a farmer. When The Great Depression hit, work was hard to find. John enlisted in the CCC to be able to support his family. The CCC was a way for many families to make a living during that time. Many families were hungry and went without the necessities to support their families. The CCC was a true blessing for these people.

John was sent to Berkley County to Camp Morgan, Company 1523 SP-4. He worked on building West Virginia's first state park. He worked a carpenter and also as an instructor. The park was completed July 1, 1937. His 1940 Social Security Card was stamped the with CCC as his employer.

John's daughter, Dorothy Gunno, tells this about her father. "My dad loved to play the banjo, harmonica and to play baseball. During the summer, we would sit outside and he would tell me about his experience as a soldier during WWI and working for the CCC. He said the CCC was very much like the military. On cold winter evenings, we would sit near the pot belly stove and listen to the Grand OL Opry and he would tell me about working for the CCC. He was very proud of working for the CCC. My dad was a very kind, generous and caring man. Dad moved the family to Mason County. He farmed in his later years until his departure from our family to be with the Lord. He was a very hard worker and is missed so very much by all who knew him."

Hall of Famer Turner met Stella Irene Mullens in 1920 and they were married October 1922. The couple was inseparable for forty years. They had a daughter, Dorothy Lee Turner Gunno. John and Stella were also foster parents to twenty three other children. Stella passed away in 1991.

Our beloved honorable John Harvey Turner went to be with the Dear Lord on November 17, 1962. He was buried with full military honors at Beale Chapel Cemetery in Applegrove, Mason County, WV.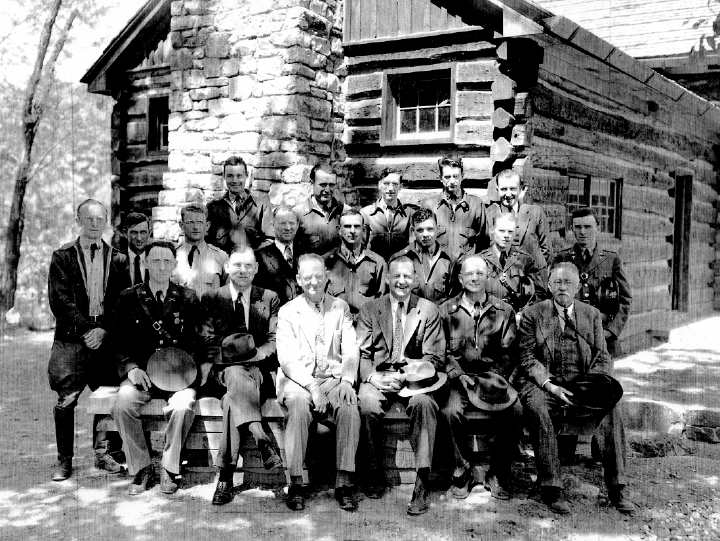 This scene is at the new Cacapon State Park, near Berkeley Springs, WV when
a group of dignitaries
came to recognize the men of Camp Morgan
shortly after the park was opened in July,1937.


John Turner is in the last row, center.