The West Virginia State Civilian Conservation Corps Museum Association is proud to announce that Russell Blaine Edgell has been inducted posthumously into the West Virginia State CCC Museum Association Spring 2013 Hall of Fame. The ceremony took place at the April 20, 2013 Spring CCC Jubilee held at the Quiet Dell United Methodist Church assembly hall.

Mr. Edgell was born in Folsom, Wetzel County, West Virginia on November 7, 1917.

Our Honoree joined the CCC in 1935 and was assigned to Camp Harrison, Quiet Dell, West Virginia. One of the camp supervisors took a special interest in him and encouraged him to improve his math and English skills. Edgell was mechanically inclined and a skilled woodworker. He often spoke of when he arrived at camp the CCC Boys were living in large surplus World War I tents. He later worked on the barracks that replaced the tents. One of his life long friends was Sandy DeMark, who was one of the founders of the State CCC Museum located in the historic Quiet Dell Grade School. His CCC pay went to support his parents James and Elsie, his brother, and three sisters who struggled back in Lumberport County during the worst of the Depression. His nephew, Daniel A. Edgell, contributed to his Uncle's biography.

Edgell was inducted into the United States Army in March 1944. His mechanical skills came to the forefront as he was placed in engine maintenance as an Electric Motor Repairman. He served with valor in he served from 1944-1945 in Scotland.

After the war, he came back to Clarksburg to the job he left before the war, working as an electrician for Barnes and Brass Corporation. He also worked at the Bethlehem Mine and Robinson Run Mine rewinding electric motors. Throughout his life he had a great respect for conservation of our natural resources, a respect he learned during his time with the CCC at Quiet Dell, West Virginia. He had a deep affection for animals. Daniel Edgell, a dear friend and considered his favorite nephew, remembered that he was very kind and had quite a "sense of humor".

Honoree Edgell was married twice and raised three sons; Douglas who passed away at 42 years of age, James and Dwight, and two daughters; Rebecca, and an adopted daughter Darla Jean. He was a Christian and attended Victor Chapel United Methodist Church at Francis Mines, Coon's Run, Harrison County, West Virginia. He went to be with the Dear Lord on May 6, 2008.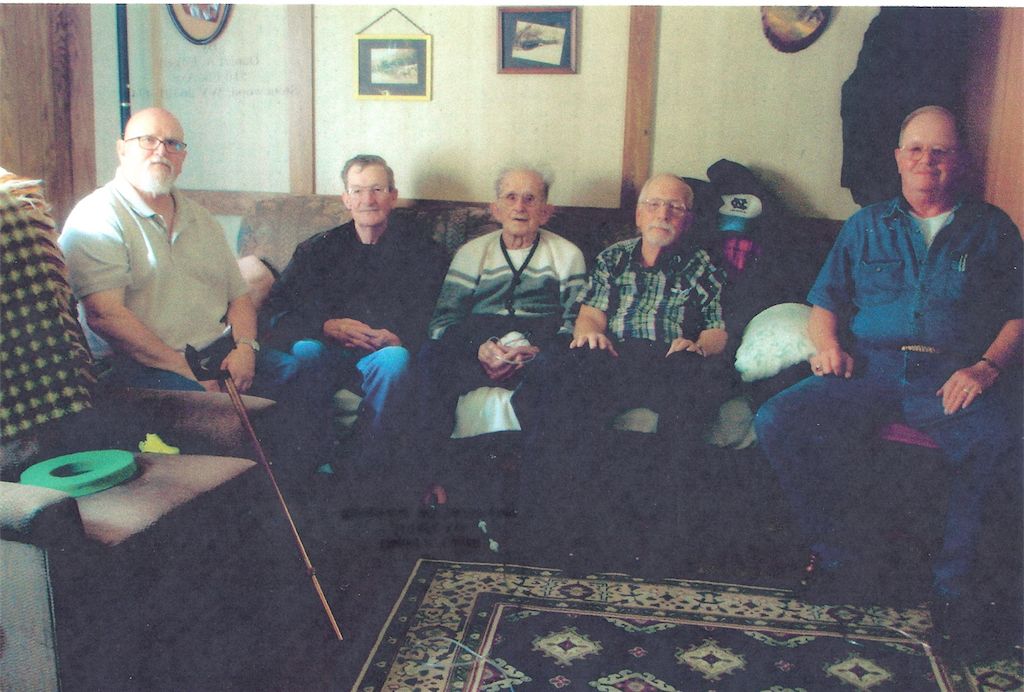 90th Birthday Party for Russell B. Edgell, CCC Boy. Left to Right. Dwight Blaine Edgell, son Clifford R. Cain,
cousin West Virginia State CCC Museum Association Hall of Fame Spring 2013 Honoree,
Russell B. Edgell, Samuel K. Edgell, cousin, and Daniel Alexander Edgell, special nephew.